Drawings
Hanna Hur, Michael Kennedy Costa, Naoki Sutter-Shudo
June 28 - July 20, 2019
Organized by Hanna Hur
Images

Press Release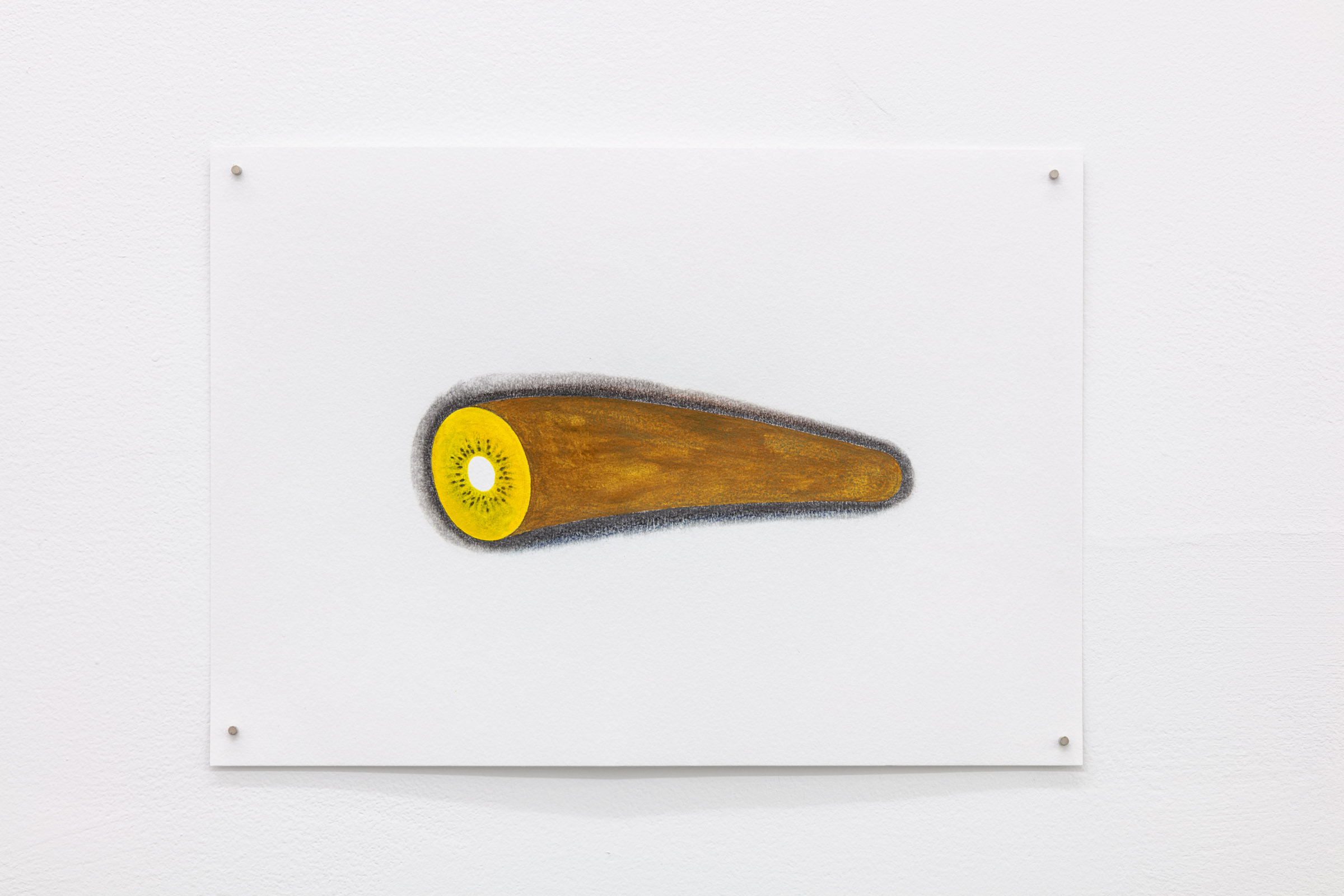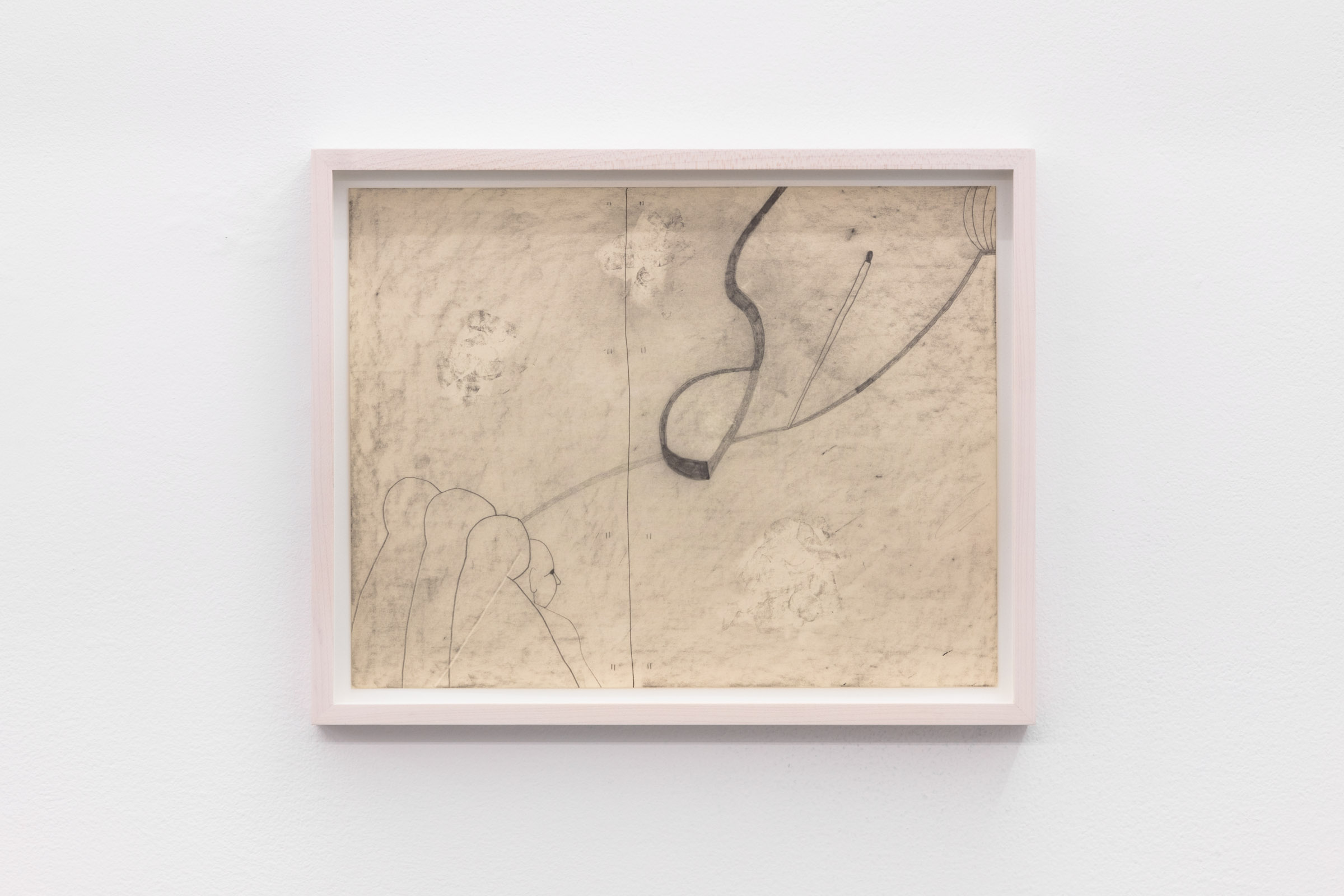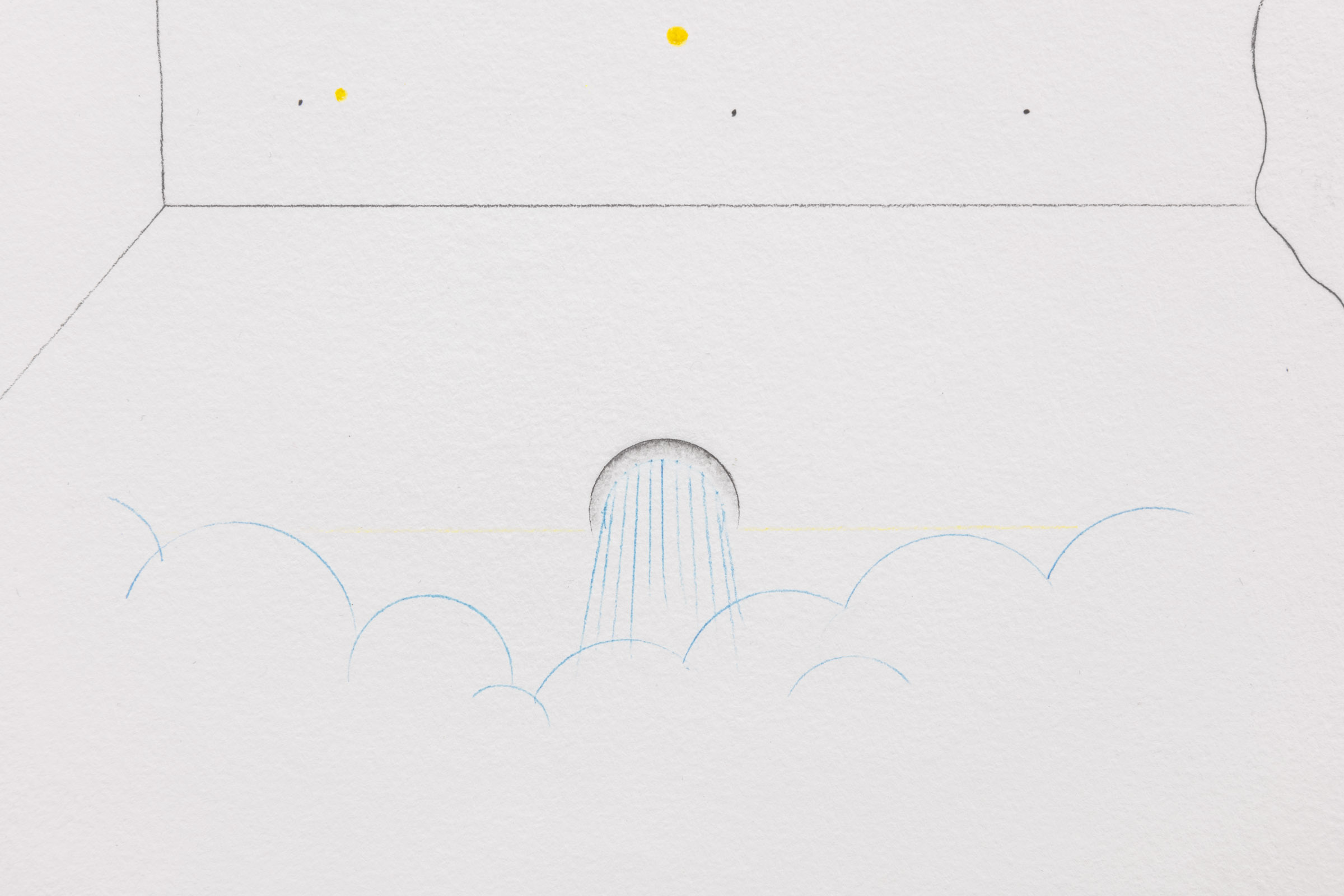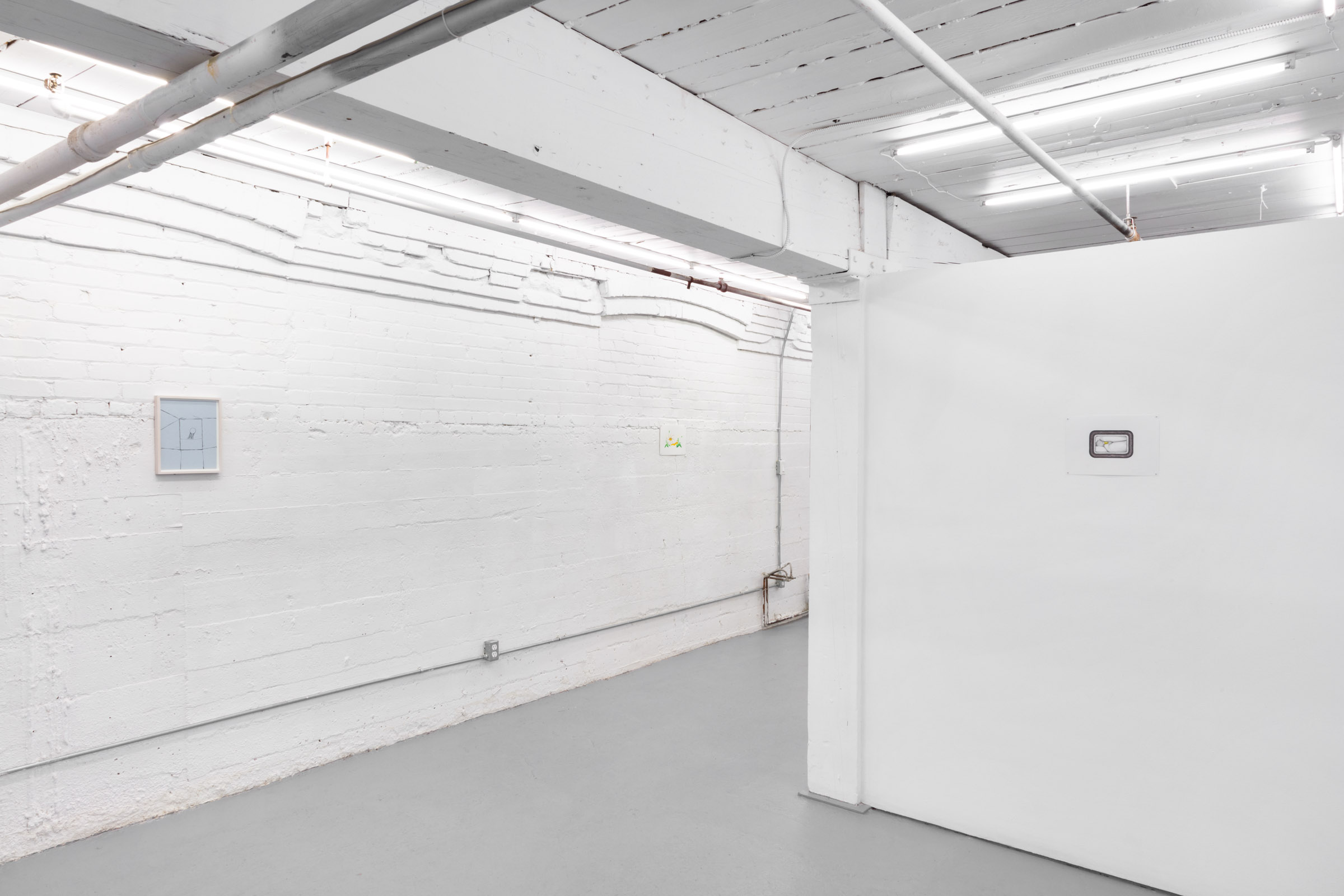 ---
For HH, MKC & NS-S
I keep returning to the image of a Venn diagram.
There are things that exist outside the overlap.
Hanna's drawings point at once to the ethereal plane invoked by them and to the body that makes them. The labor of repeating geometric forms opens doorways to the unseen, but is performed on our side of the threshold. They call to others who are elsewhere and before, but are indicative of Hanna's presence. She draws as ritual. This is making as convocation.
Michael introduces glimpses of an alien world populated by sensual and sensory experience. It is a world we need introduction to because it is not our own, but there we find landscapes, vistas, stairways, genitalia, confusion, lust, fear, and loneliness. They are drawings imbued with potential energy because they only offer partial understandings. They make themselves known as windows without imposition. Michael draws as evocation.
Naoki is an exorcist and the exorcised. Visions descend on him and are cast off onto the page. If he has to see these things, so must the rest of us. We have to sit with him in the unbearable, the uncanny, the uncomfortable. Naoki's images are the shove that gets us to the other side. His drawings are a provocation.

Their shared spaces vibrate with affinity, kinship, entanglement. Their lines are measured, gestures economic. In details and elegance, there is sensitivity, minimalism as disguise. But the overlapping is also anecdotal, personal, geographical, historical. There is mutual exposure and support in these lines and curves. Many of my studio visits with these artists were conducted in their homes. Drawing is often kept private. It's an intimate practice; it can be done at home, in secret, during bouts of insomnia, with a spouse, to gather friends, under the influence.

Three is a loaded number. It's primal, figuring in disparate constructions of the world. John Berger writes about the three tenses of drawing: Present Indicative (drawing as study of what is seen), Historic Past Tense (drawing from memory), and Tense Conditional (drawing to communicate ideas.) In the Shinto cosmology, the circle, triangle, and square refer to three states of being—liquid, gas, and solid. In French, there are the first, second, and third degrees of humor, from literal, to ironic, to surreal. Some people still believe in heaven, earth, and hell. The diagram shown above depicts four sets, and not three, because I cannot remove myself from these observations. To draw is to suggest, and not dictate. Here I endeavor to do the same.

- Ana Iwataki, 2019

Hanna Hur (b. 1985, Toronto) lives and works in Los Angeles. Recent exhibitions include Signal at the Wheel, Hover at the Gate, Bel Ami, Los Angeles (2019), Four Pillars, L'INCONNUE, Montreal (2018); Cupping the Counter, Motel Gallery, New York (2018); undressing a clam, Visitor Welcome Center, Los Angeles (2017); Chance, on the edge of a line, The Sunroom, Richmond (2017); Trapdoor, 67 Steps, Los Angeles (2017); and The fraud that goes under the name of love, Audain Gallery at Simon Fraser University, Vancouver (2016). She recently received her MFA from the University of California Los Angeles and will participate in a forthcoming exhibition with Heiwata in Mexico City.

Ana Iwataki (b. 1989 in Los Angeles, lives and works in Los Angeles) is a curator, writer, and translator.

Michael Kennedy Costa (b. 1982, Northampton, lives and works in Los Angeles) is an artist and writer. He has recently exhibited at Roger's Office, Los Angeles; Sydney, Sydney; and 67 Steps, Los Angeles. He has a forthcoming solo show at u's, Calgary.

Naoki Sutter-Shudo (b.1990 in Paris, lives and works in Los Angeles) is an artist represented by Bodega (New York) and Crèvecœur (Paris). He is also co-founder of Holoholo Books, a publishing house based in Paris, and of Bel Ami, a gallery in Los Angeles.