HaeAhn Paul Kwon Kajander
Maximum Suffering Along The Way
September 7 - 28, 2019
Images

Press Release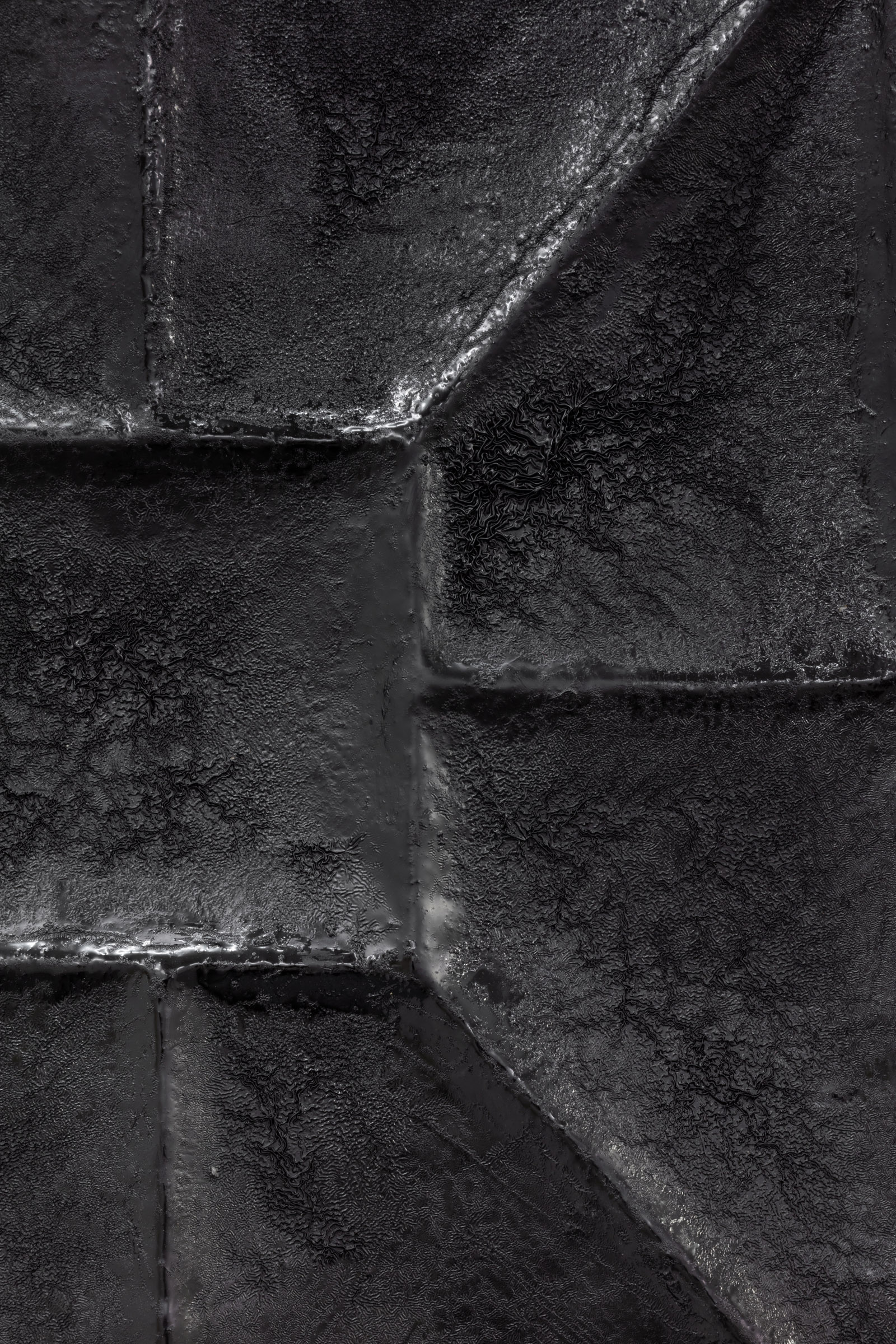 ---
Franz Kaka is proud to present an exhibition of new work by the collaborative entity HaeAhn Paul Kwon Kajander, their first solo exhibition with the gallery. Prompted by ongoing research into the violent history of modernization in South Korea, their experiments involving traditional lacquer techniques known in Korea as ottchil have become a material and conceptual anchor in a new body of works that partly indexes the burdensome history of urbanization.
Motivated to use more environmentally sustainable materials, HaeAhn Paul Kwon Kajander have produced a series of relief works adopting the dry-lacquer technique, which combines layers of glutinous rice powder, ottchil, linen, ash and clay powder. Unstable organic matter benefits from its combination with lacquer, which polymerizes under humid conditions, rendering its surface water resistant, capable of withstanding heat and leaving it naturally repellent to insects. The dry lacquer technique originated through efforts to produce light-weight and enduring statuary by layering saturated hemp fabric over a wooden or clay sculptural base, which could later be removed in producing a hollow form. Among this new body of work are elements that have adapted the technique to cast impressions of urban infrastructural materials such as bricks and sewage covers as well as residential property protections, including burglar bars and grates.
The original structures for these lacquer relief works were mainly sourced in the Euljiro district of Seoul, which is currently at the centre of a contested urban redevelopment project. The proposed plans jeopardize the livelihoods of myriad small-scale manufacturers, technicians and distributors who produce small-run projects and prototypes for industrial and domestic purposes. The workshops in Euljiro operate as a network at the scale of a small village and are connected by a labyrinth of narrow streets, alleyways and covered passages. In many ways, it is the exact opposite of the click and order online economy, a last bastion of non-corporatized transactions and often improvisational know-how. The plenitude of skills situated in this community are threatened by initiatives to build luxury apartment buildings. Of the many workers operating out of this zone, some are facing imminent bankruptcy, others struggle to embrace an unexpected early retirement, and a few of those young enough to relocate intend to pack up their equipment in an effort to set up shop in Vietnam.
For Kwon Kajander, the specificity of this situation conjures the global intensification of the many worst-case-scenarios that have become so familiar under the ascendancy of neoliberalism. Their work begins in considering property and privatization and the way in which the supposed "economic miracle" of South Korea can be used to retroactively map a shortsighted trajectory that leads inevitably to complicity with the globalized catastrophes of our times. (With maximum suffering along the way.)
Through the informal apprenticeship from which they learned how to work with ottchil, the process of its hardening was described by their teacher as being like a scab. This analogy prompted experimental drying techniques that depart from the traditional aspirations to slick smoothness for which lacquerware is so highly prized. Through rough, fleshy and blistered patinas, HaeAhn Paul Kwon Kajander address a history of scars against the backdrop of a climate in which fresh wounds are continually being perpetrated in the name of short-term prosperity. And yes, it has given them a rash.
Paul Kajander (b. Vancouver, Canada) is an artist working across video, sculpture, installation, photography, sound, performance and drawing. His work has been shown in various exhibition contexts, including Franz Kaka, Toronto; the New Media Society, Vancouver; the Hammer Museum, Los Angeles; The SFU Audain Gallery, Vancouver; Daniel Faria Gallery, Toronto; the Seoul Museum of Art, Seoul; Art Sonje Center, Seoul; the Western Front, Vancouver. Kajander lives and works in Toronto.
HaeAhn Kwon (b. Daegu, South Korea) received her MFA from the School of Fine Art and Music at the University of Guelph and her BFA from Cooper Union (New York, NY). She has participated in exhibitions at Jack Barrett, New York; The Hand, Brooklyn; Michael Benevento, Los Angeles; Galería Agustina Ferreyra, San Juan; Franz Kaka, Toronto; Small Arms Inspection Building, Mississauga; Support, London, ON; Erin Stump Projects, Toronto; Samuso, Seoul; Okin Theatre, Seoul; Sempio Space, Icheon-si. Kwon lives and works in Toronto.