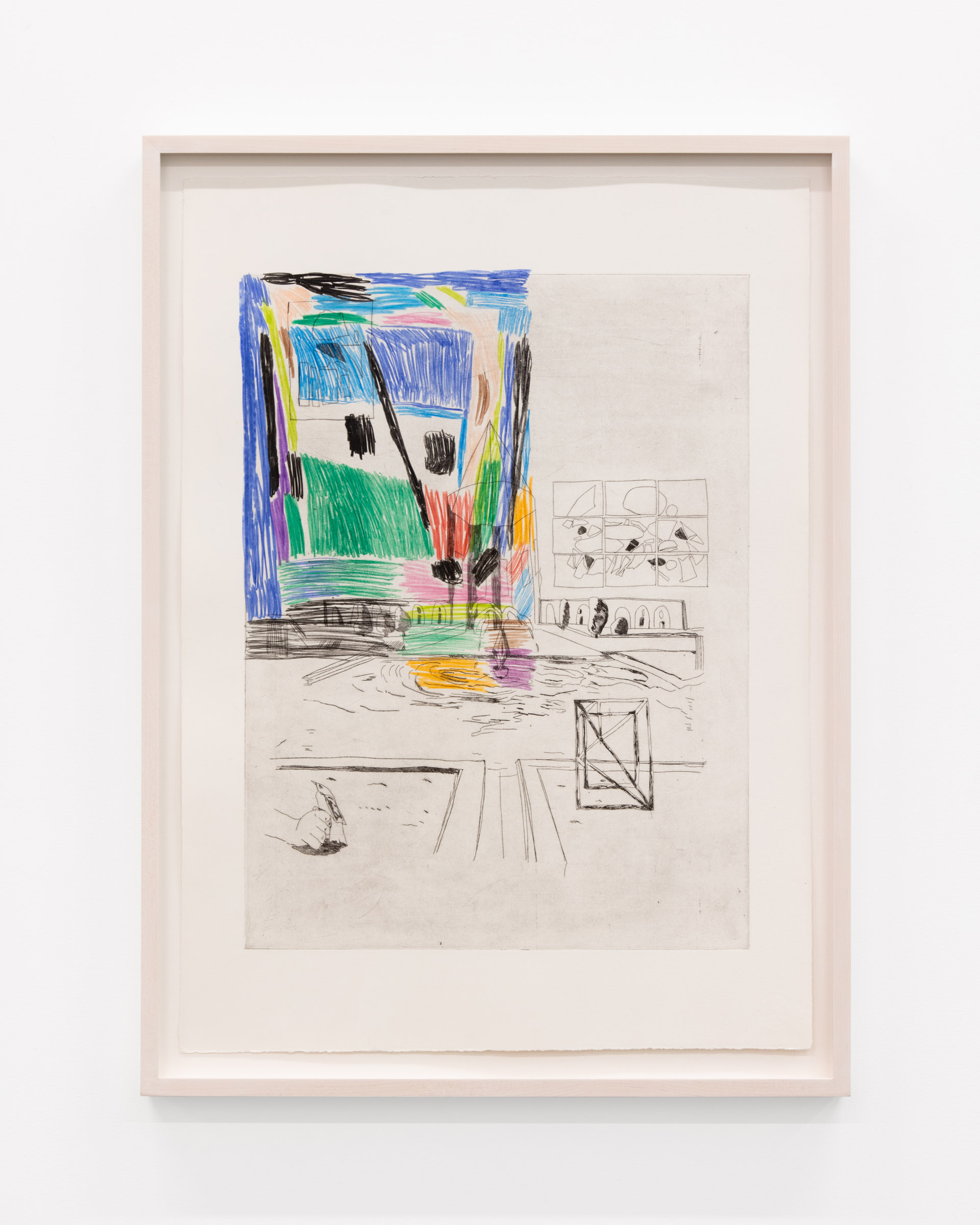 ---
Memory Palace,
an exhibition of new intaglio prints and welded brass sculptures by Robin Cameron, invites an introspective journey into the mental mapping of the artist. The five prints on view, selected from a series of 32, were produced during a printmaking professorship at Cornell University in the spring of 2019. These works reflect Cameron's artistic interests and teaching philosophy of incorporating several printmaking processes into each print. In this instance she's etched into copper plates with the addition of watercolour monotype, bringing together needle fine lines with bold yet transparent colour.
Traditionally used as a device for remembering, memory palace or the Method of Loci was developed by Greeks over 2000 years ago to enhance memory. During a time when oral storytelling dominated the social consciousness, this method utilized spatial relationships within the mind and became a conduit for information sharing and visual content. While our methods for remembering have certainly changed — these aren't the same devices you'll find at the Apple store or used for virtual tours with digital algorithms — Cameron's palaces deal with human vulnerability and remind us that memory is valuable, yet impermanent so worth recording.
The palaces in this series include a pictorial archive of previous works, somewhat retrospectively of Cameron's overture. Imagery of her ceramic sculpture and works in bronze is mixed within fictitious landscapes, interwoven with drawn interiors of favoured museums and images from other artists. Her vivid images evoke Hockney's Grimm's Fairytale and recall Picasso's erotic etchings, all rendered with a distinct perspective produced through the lens of the artist's personal history. Cameron finds inspiration everywhere, and within her palaces she's placed mementoes which lie in waiting until discovered, transporting us through her process as an artist and thinker. Buried with notations, remarks and treasures ready to be excavated, inside Cameron's drawn palaces, all art is 'real art' and the spaces she creates preserve the materialization of colour, texture, and composition as if her dreams were imprinted onto form.
Accompanying the prints are three delicately welded brass sculptures on pedestals. Works that appear to have walked out from the palace prints, their meandering yet structured line quality match the etchings on the wall. Simply described as drawings in space, these forms, titled
Memory Place (Ladder to Nowhere), Memory Palace (Fire Escapes)
and
Memory Palace (Tower Symbols)
, are playfully constructed and include formal qualities that invite interpretation. The sculptures articulate the vaulted architectural interior of the prints, where once inside, her floors are made with angel hair markings and the ceilings are mosaiced with abstractions like Diebenkorn. The walls are of chine-colle and illuminate light through one room to the next, mixing colour with endless variety to fit any day's mood. In a moment when we are spending more time with ourselves— our thoughts — Cameron's exhibition is an opportunity to take a journey elsewhere, entering her interior of collective memories.
- G. William Webb
Robin Cameron (b.1981, British Columbia, Canada) is an artist based in New York City who works in a wide range of media such as ceramics, brass sculptures, films, drawings, cyanotypes and printmaking. She often uses traditional media in an unconventional way to explore the boundaries of time, systems of thought, and identity. She is best known for making books which are available at Printed Matter and held in the collection of the MoMA library. Her work is in the permanent collection at the Whitney Museum. She graduated in 2012 with an MFA from Columbia University.