Seep State
Alexa Hawksworth, Lotus L. Kang, HaeAhn Woo Kwon, Alli Melanson, Hiromi Nakatsugawa, Catherine Telford Keogh, Thea Yabut
January 14 - February 18, 2023
Images

Press Release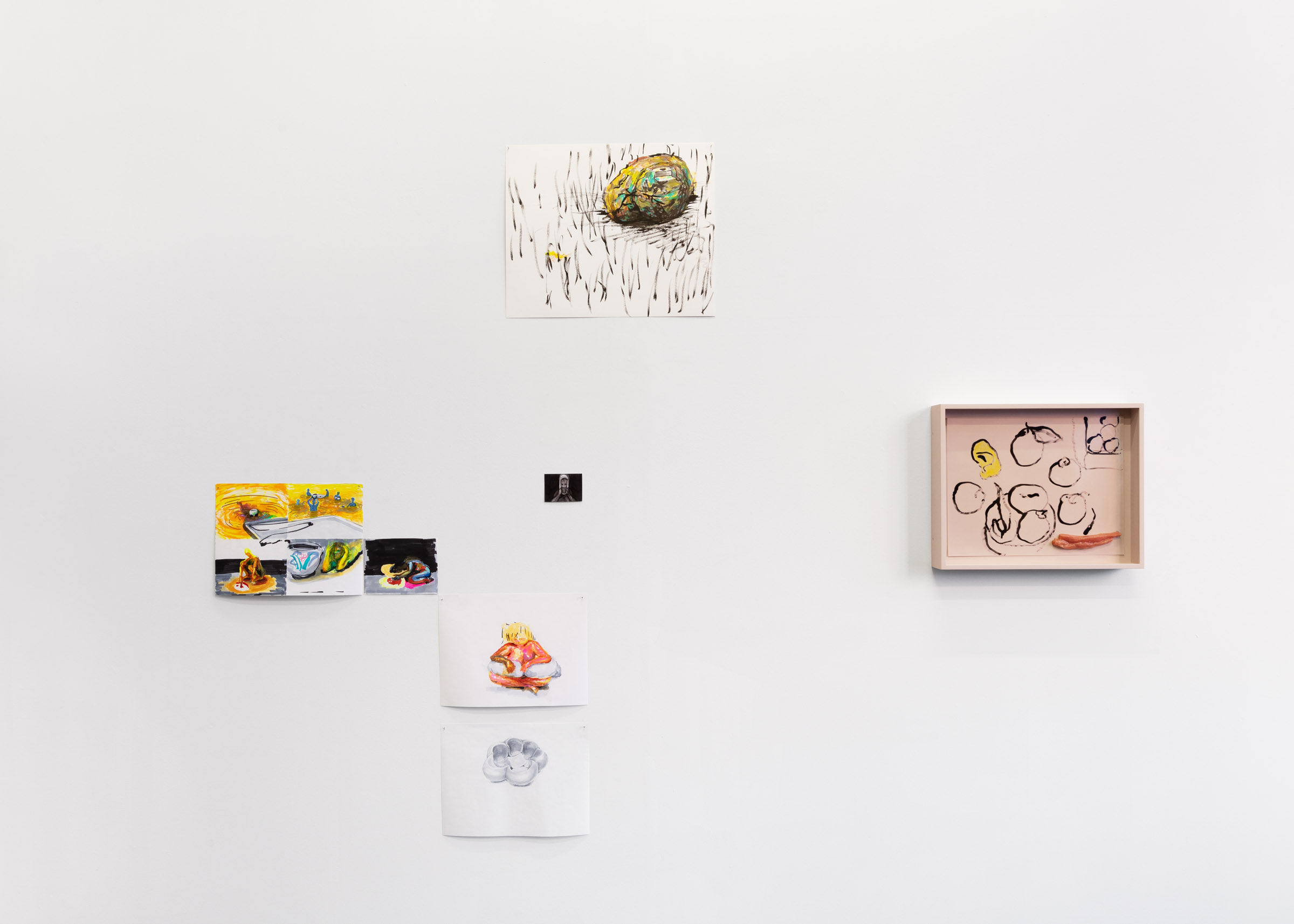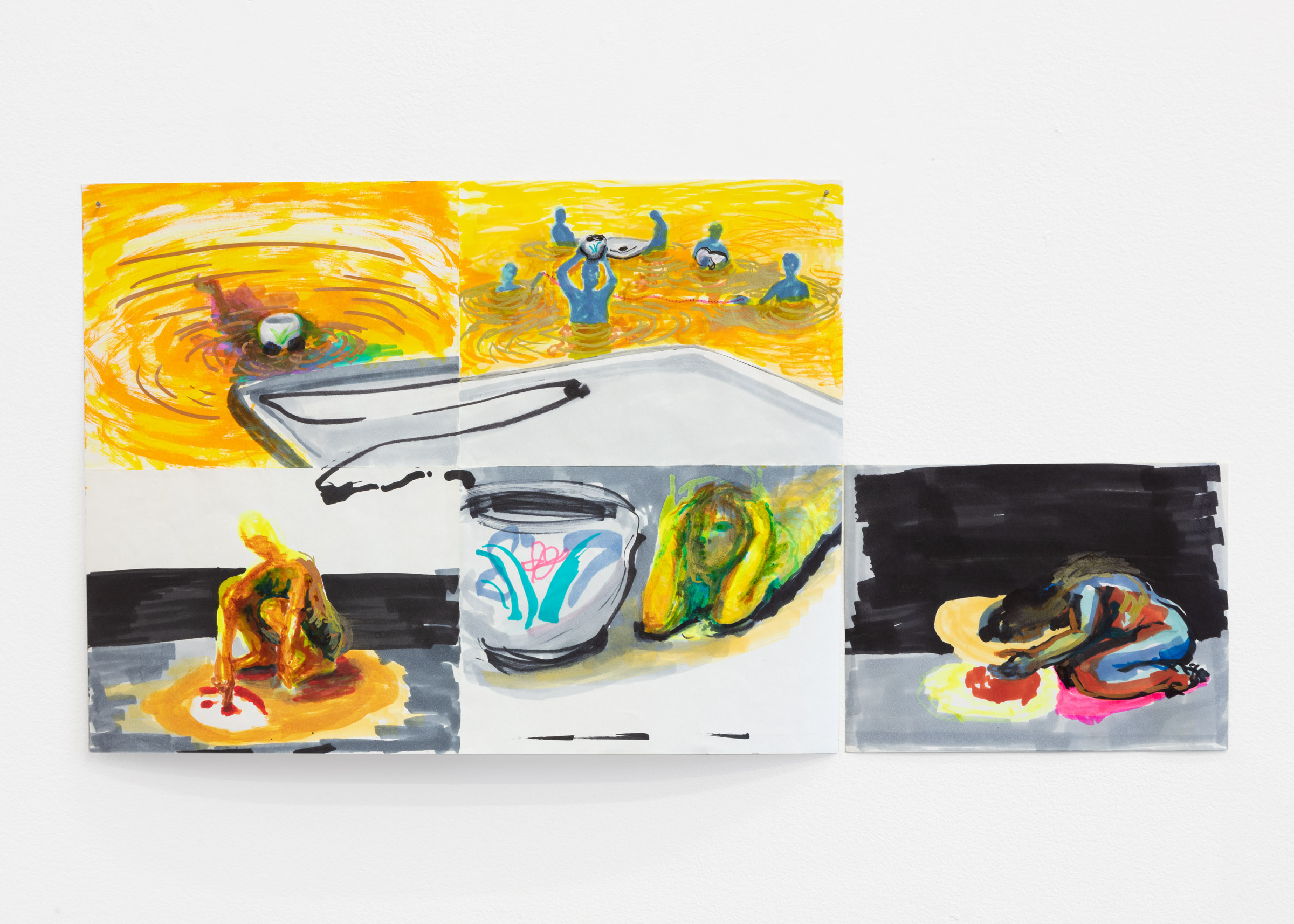 ---
Seep State brings together practices that foreground the porosity of bodies as boundaries and identities aimed toward new and novel ways of understanding being. Viewing this thematic through a plurality of material approaches and conceptual frameworks, the works included propose both body and mind as unfixed entities that are in constant and contingent relation with surrounding actors, environments and energies, which are themselves constantly shifting.

Exceeding Franz Kaka's familiar gallery boundaries, Seep State extends itself into the the gallery backroom and beyond with the installation of a new vinyl work by Montreal-based Alli Melanson applied to the office window with its reverse visible from the street below. Here, the sacred space of the gallery and the profane undertakings of the backroom are brought into direct contact with one another as their traditional architectural separation is made porous. The works included in Seep State also all point to the permeability of containers - biological, psychic and inorganic - and the inability of these outwardly fixed forms to wholly limit the leaky messes they attempt to hold.

Alexa Hawksworth (b. 1994, Hamilton, ON) lives and works in Montréal. She received her BFA in 2020 from Concordia University, Montréal, QC. Solo and two-person exhibitions include My Wishlist, Theta, New York (2022); Semi-Detached New Build, Projet Pangée, Montréal (2021); Doubles with Roxanne Thibault, curated by Marlon Kroll, Family Exhibitions, Montréal, QC (2021); Nick Payne & Alexa Hawksworth, Sibling Gallery, Toronto, ON (2021). Selected group exhibitions include Banquette, Afternoon Projects, Vancouver, BC (2022); Echo Boomers, Projet Casa, Montréal, QC (2020).

Lotus L. Kang is an artist working with sculpture, photography and site-responsive installation. Notable group and solo exhibitions include The New Museum, SculptureCenter, Helena Anrather, Interstate Projects, Cue Art Foundation, New York; Night Gallery, Los Angeles; Catriona Jeffries, Vancouver; Oakville Galleries, Oakville; The Power Plant, Mercer Union, Art Gallery of Ontario, Franz Kaka, Cooper Cole, Gallery TPW, Toronto; Remai Modern, Saskatoon; Raster Gallery, Warsaw; and Camera Austria, Graz. Artist residencies include Rupert, Vilnius; Tag Team, Bergen; The Banff Centre, Alberta; Triangle Arts Association and Interstate Projects, Brooklyn. In 2022, she was the inaugural resident at Horizon Art Foundation in Los Angeles. She holds an MFA from the Milton Avery School of the Arts at Bard College.

HaeAhn Woo Kwon makes use of responsive approaches to installation and assemblage, in which research finds expression through material improvisation. They bring together disparate materials and means of production that include hand-built, manufactured, and found objects and drawings. Such arrangements often reflect on the availability of excess goods and the necessity of inventiveness in our current moment. They often collaborate with Paul Kajander as Haeahn Paul Kwon Kajander. Through embracing the porousness of making, they further explore the inevitability of influence, whether psychic, cultural, material, biological or environmental.

In 2007 (maybe 2008), Alli Melanson unexpectedly wept upon seeing Da Vinci's Madonna of the Rocks, a painting in which Mother Mary's hand contorts ominously over Jesus' infant body. She learned much later that the version she saw was a reproduction, and it is debated whether it was painted by Da Vinci at all. The day she was born, Melanson's parents became convinced of the existence of God.

Hiromi Nakatsugawa (b. 1999, Hiroshima, Japan) lives and works in Toronto. She received her BFA from OCAD University where she was awarded the Eric Freifeld award in Painting & Drawing. In 2022, Nakatsugawa presented her debut solo exhibition Pass By at Franz Kaka, Toronto. She has since been included in exhibitions at Hearth Garage and Xpace Cultural Centre (both Toronto).

Catherine Telford Keogh (b. 1986, Toronto, ON) lives and works in New York. Her work is concerned with fantasies and promises embedded in objects that breakdown through an amalgam of material relations and biological processes. She foregrounds material agency and the half-life of images to investigate the cohabitation of incongruous materials while highlighting systems of excessive consumption under capitalism. Solo exhibitions include Circuit Trouble at Erin Stump Projects (Toronto); Nervous System at Helena Anrather (New York City); Dental Dam at University of Waterloo Art Gallery (Waterloo, ON); and FLAT FOOD, Roberta Pelan (Toronto). Her work has been included in group exhibitions at Galeria Fidelidade Arte, Lisbon; Canadian Cultural Centre, Paris; Bronx Museum, New York; Galerie Antoine Ertaskiran, Montreal; Seattle Art Museum, Washington; Thkio Ppalies, Cyprus; and Interstate, New York among others. She is an artist-in-residence at the Pelling Laboratory for Augmented Biology at the University of Ottawa where she is currently examining the biodegradation of petrochemical products.

Thea Yabut (b. 1985, Vancouver, BC) lives and works in Montreal and completed an MFA from Western University and a BFA from Alberta University of the Arts. Recent solo exhibitions include fossa ovalis, Leila Greiche (New York) and VIBRISSA, L'Inconnue (Montreal). Selected group exhibitions include Material Poetics, South Parade at The Shop Sadie Coles HQ (London); La machine qui enseignait des airs aux oiseaux, MAC Musee d'art contemporain de Montréal (Montreal); Collagen Shadows, ADA (Rome); Morph, Cassandra Cassandra (Toronto); Object of Desire, Tiger Strikes Asteroid (New York); and How Deep is Your Love, Cooper Cole (Toronto). From 2019-2021 she was Artist-In-Residence in Drawing at Concordia University.