Trip Like I Do
Mike Goldby, Lotus L. Kang, HaeAhn Woo Kwon, HaeAhn Paul Kwon Kajander, Katie Lyle
January 21 - February 19, 2022
Images

Press Release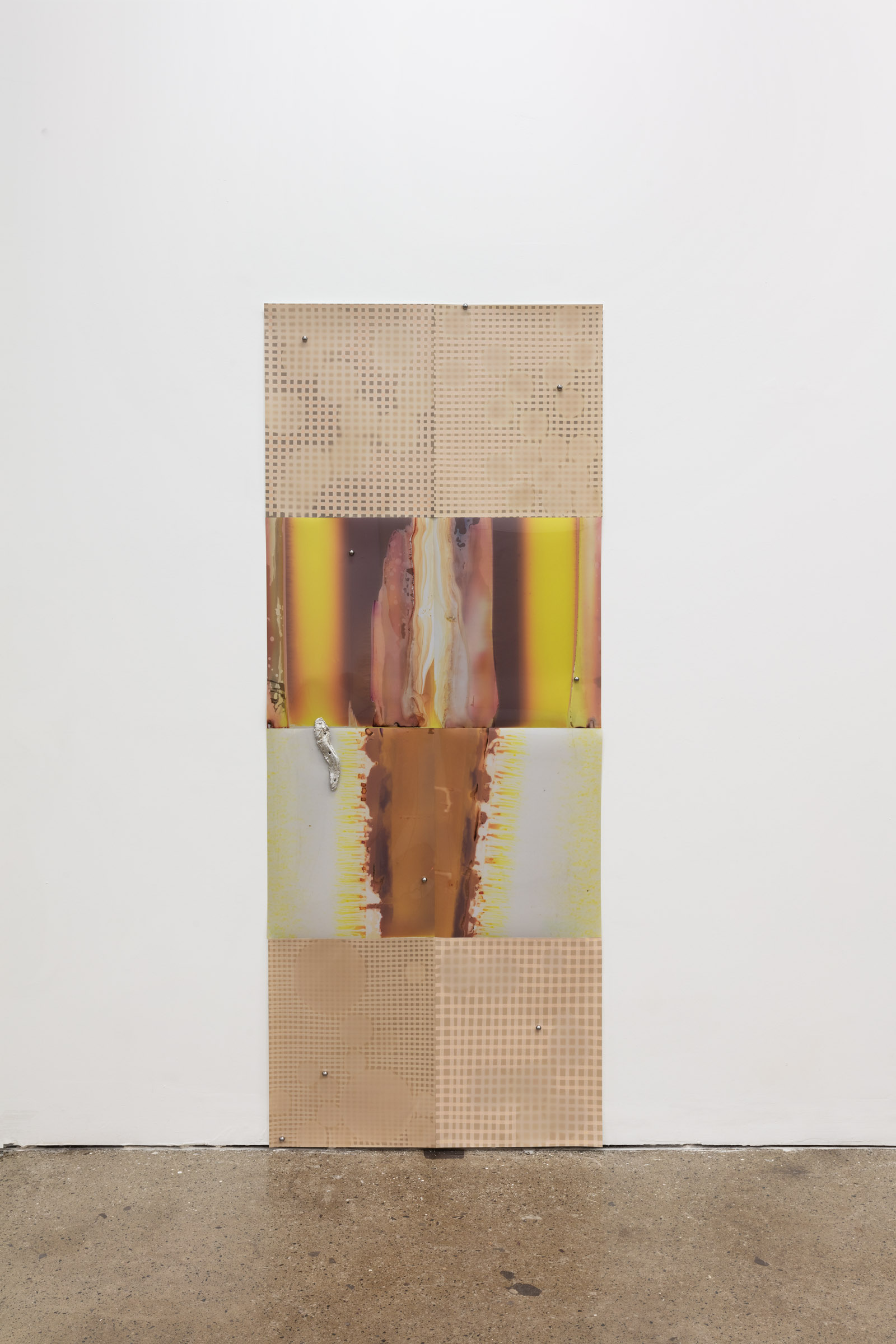 ---
Trip Like I Do conflates the body with the built environment to visualize how these circuitous networks could appear as they breakdown or become 'tripped'. As circuits require an unobstructed pathway to deliver energy from a source to a load, within the city the circuit break might spatially be expressed as the dead-end or cul-de-sac, where forward movement becomes halted by a physical obstacle.

The phrase cul-de-sac, which literally translates to bottom of (a) sack, finds common usage both inside and out of the body, having been used in French since the 13th century to describe any dead-end street or closed alley, and in English within anatomical study since the 18th century to describe the bottom of a sack within the body or a cavity closed at one end. Mimicking the physical shape of a bag's bottom, the dead-end or cul-de-sac finds itself as an open space of collection, where circuitous flows of energy must find or invent new pathways to avoid being closed off and where debris and detritus swirl to form new and novel accumulations. Trip Like I Do rummages in this detritus to speculate upon the potential for such heavily charged sites to disrupt linear connectivity. The included works flicker, reflect, and compress space to reroute easy passage, and consider how the body might fit within this breakdown.
Mike Goldby completed his BFA in Integrated Media at OCAD University in 2013. He has exhibited internationally in Toronto (Gallery 44, Sibling, Jr. Projects, Tomorrow, Art Metropole, Division), New York (MAW Gallery), Brussels (Mon Cheri), Berlin (Future Gallery), and Paris (Galerie Chez Valentin). He currently lives and works in Montreal/Tiohti:áke where is an MFA candidate at Concordia University.

Lotus L. Kang's work explores the body as an ongoing process and environment. Her installation Great Shuttle was included in the New Museum 2021 Triennial: Soft Water Hard Stone curated by Jamillah James and Margot Norton. She has exhibited at Helena Anrather, SculptureCenter, Interstate Projects, Cue Art Foundation, New York; Oakville Galleries, Oakville; The Power Plant, Franz Kaka, Gallery TPW, Cooper Cole, and Carl Louie, Toronto; Remai Modern, Saskatoon; Galerie Antoine Ertaskiran and L'inconnue, Montreal; Raster Gallery, Warsaw; and Camera Austria, Graz. Artist residencies include Rupert, Vilnius; Tag Team, Bergen; The Banff Centre, Alberta; Triangle Studios and Interstate Projects, Brooklyn. She holds an MFA from the Milton Avery School of the Arts at Bard College and is based in Toronto. She is currently studying Chinese Medicine towards becoming an acupuncturist.

HaeAhn Woo Kwon is a visual artist whose work centers primarily on drawing, sculpture, and installation, probing strategies of the makeshift and improvisation. Informed by vernacular architecture in the urban environment of her native South Korea, her practice recombines and transforms everyday objects, highlighting a tension between a culture of excess and the resourcefulness born of crises. Kwon received her MFA from the University of Guelph and a BFA from the Cooper Union. In addition to her independent practice, she frequently collaborates with Canadian artist Paul Kajander as HaeAhn Paul Kwon Kajander. Threading given and family names together, their practice challenges identificatory constructs such as gender, ethnicity, and patriarchal lineage. Kwon has participated in exhibitions in Canada (Franz Kaka, Support, ESP), the United States (The Hand, Michael Benevento) and South Korea (Samuso, Sempio Space, Okin Theater).

HaeAhn Paul Kwon Kajander have presented their collaborative work at Trilobite et le Pneu (Montréal), Franz Kaka (Toronto), ArtSonje Centre (South Korea), Jack Barrett Gallery (New York), The Small Arms Inspection Building (Mississauga), Julius Caesar (Chicago), Nerri Baranco (Mexico City) and in the Public Programming for Art Toronto in 2019. They currently live and work in Toronto, on land cared for by many nations, including the Mississaugas of the Credit, the Anishinaabe, the Chippewa, the Haudenosaunee and the Wendat peoples.
Katie Lyle is an artist working across painting, drawing and performance. Selected presentations include; NADA House, Governors Island, New York presented by Franz Kaka; The School of Art Gallery at the University of Manitoba; La Datcha, Berlin; Susan Hobbs Gallery, Toronto; Erin Stump Projects, Toronto; Daniel Faria Gallery, Toronto; Projet Pangee, Montreal; The MacIntosh Gallery, London, ON; 67 Steps, Los Angeles; Oakville Galleries; the Nanaimo Art Gallery. Lyle has worked collaboratively with Toronto based dancer Shelby Wright since 2014. Selected presentations of their co-authored work include: the Toronto Biennale, SummerWorks Festival, and the Canadian Art Foundation. Lyle is based in Toronto.